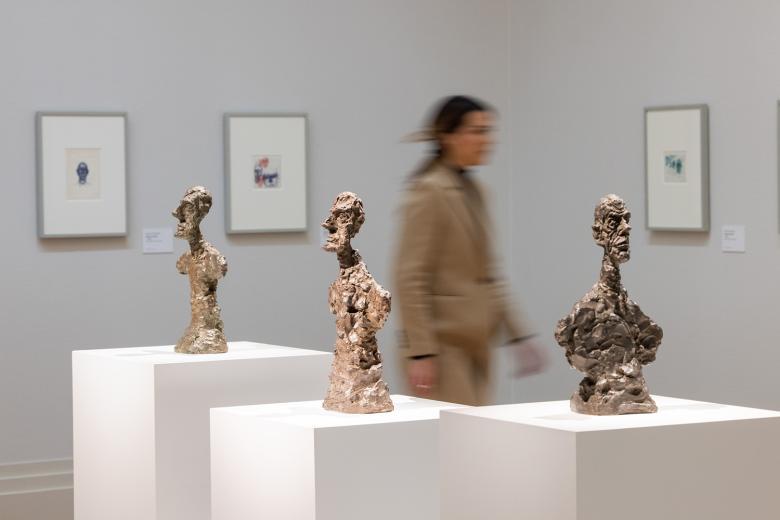 Planning a visit to see our new exhibition Giacometti: From Life? Read on for some useful information about ticket prices, time slots, cancellations and terms and conditions.
Ticket Pricing
Weekday tickets:
Adult €12 
Over 65 / jobseeker €10 
Student €8 
Weekend tickets:
Adult €18 
Over 65 / jobseeker €15
Student €12
Discounted tickets:
10% discount on online bookings
Free entry every Monday 11am–2pm
€5 tickets every Tuesday 9.15am–1pm
€5 tickets every Thursday 5pm–7.15pm
Free entry for the following:
Groups and Tours:
School tours:
Private guided tours:
Available Tuesday–Sunday from 3pm to 4pm.
There is a cost for the tour guide in addition to exhibition tickets purchased for the agreed time slot. Please contact

[email protected]

to book a private guided tour.
Visitor information
Entering the exhibition:
Capacity:
Our current capacity for Giacometti: From Life is 19 people per time slot: a total of 76 per hour.
We strongly recommend that visitors pre-book their exhibition tickets online.
We encourage visitors to arrive 5 minutes before admission.
Time slots:
First admission is at 11am on Mondays, 9.15am Tuesday – Saturday, and 11am on Sundays.
Last admission is at 4.15pm (Monday-Wednesday and Friday-Sunday) and 7.15pm on Thursdays.
All tickets are timed, with 15-minute time slots to enter.
You will not be able to enter before the time on your ticket unless our ticket-desk staff inform you otherwise.
You are welcome to stay in the exhibition for as long as you would like (within Gallery hours).
For Giacometti: From Life, we suggest you allow one hour to view all rooms.
Re-admission is not permitted unless agreed with our ticket-desk staff.
Last entry is usually one hour before the Gallery closes. 
Showing your ticket to staff:
We accept printed tickets or you can show your tickets to staff on your mobile device.
Accessibility:
There is no seating in Giacometti: From Life. People who wish/need to take regular breaks are allowed to exit the exhibition and re-enter at a later time. Please speak to the ticket-desk staff to arrange this.
If you have any accessibility needs please contact us (

[email protected]

) in advance and we'll be happy to assist you.
Photography and videography:
Photography and filming is strictly prohibited in the Giacometti: From Life exhibition.  
Further information
Cancellations and exchanges:
We can transfer tickets, subject to availability, with at least 24-hours advance notice. Please contact us (

[email protected]

) as soon as possible.
Tickets are non-refundable.
Gallery closure:
In the event that the Gallery is closed on the date that you have booked to visit the exhibition, in adherence to Government guidelines, your ticket for that date is fully refundable. Ticket holders will be contacted by our staff to process such refunds.
Late arrivals:
If you arrive late, we will arrange for you to enter at the next available time slot.
If possible, please notify us (

[email protected]

) that you will be delayed. 
Booking issues
I didn't receive my confirmation email/e-ticket:
Please contact us (

[email protected]

) and we'll resend your confirmation email/e-ticket.
The time/date on my tickets is incorrect:
I'm a Friend of the Gallery and I'm having trouble logging into my account:
Visiting Terms and Conditions
The health and well-being of our visitors and staff is our priority. Following Government and HSE health guidelines, the National Gallery of Ireland has adopted the following protocols in an effort to help reduce the transmission of COVID-19.
Health:
Please do not visit the Giacometti: From Life exhibition if you are experiencing any symptoms of COVID-19.
Please postpone your visit for another day and contact us to request a change of date for exhibition entry.
Cloakroom:
Our cloakroom is currently closed, so please pack lightly.
Suitcases, large bags, food and drinks will not be allowed into the exhibition.
Risk:
An inherent risk of exposure to COVID-19 exists in any public place where people are present. Those visiting the National Gallery of Ireland do so at their own risk to such exposure.
Contact us
Ticket Desk
Email:

[email protected]

Phone: (01) 663 3513
Available at the following times: Mondays 11am–5pm; Tuesday–Saturday 9.15am–5pm; and Sunday 11am–5pm
Tour enquiries
Friends of the Gallery